I met a woman once that looked about 30, and revealed to me that she was 50. I was floored. I asked her what her secret was. She said,
"I never marrried, and I never had kids."
Well, I like my husband a lot. My kids are pretty great too. So, I guess I should depend on a beauty routine.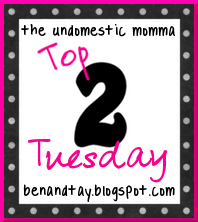 The Top 2 Tuesday at The Undomestic Mama is Beauty Tips.
My first tip includes a crock pot.
I have a thing about keeping my feet nice. Nothing is nastier than seeing a woman in flip flops with nasty feet. Keep 'em clean ladies.
A homemade paraffin dip is cheap, easy, and very effective.
You need a crock pot large enough to fit your foot into without touching the sides. It does not have to be a fancy, or top of the line crock pot. You're gonna put your feet in it.....
You will need 3 lbs of paraffin wax. I got mine at Sally Beauty Supply. I chose lavender scented.
Melt the wax, and add 1/2 cup mineral oil. (baby oil)
Using a candy thermometer, let the wax cool to 125 degrees.
Dip your foot, let it momentarily cool. Repeat and dip up to 10 times.
Wrap your foot in a plastic bag, then cover with a towel.
After about 10 minutes, remove covers, and peel off wax.
Your feet will be sooooo soft!
#2
Bare Minerals Make up.

I hate wearing make up. But, since I 'm not Heidi Klum, I have to anyway.This stuff is just awesome. I will NEVER use liquid make up again.
Just don't ever try to put it on in the car,on the way to church, in a white dress....I learned that the hard way.
LittlebitsDesigns.com