It's late, I'm over working, and I'm not ready to fall asleep. So, how about a random blog post that might make you think I'm nuts??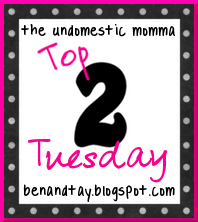 It's Top 2 Tuesday at the
Undomestic Mama
. The topic - 2 random things about yourself.
WARNING : You may not like me after this.
1. I hate chocolate and chick movies.
Yes, you read that right. I have never, ever eaten a Snickers, and I may have only seen one or two Meg Ryan movies. My husband thinks the chocolate thing is ridiculous, but he's pretty happy about my taste in movies. He has never had to suffer thru "The Notebook" while trying to act romantic.
2. If you fall down, I will laugh at you
.
I can't help it. When people trip/stumble/fall I lose it. I don't mean to, it just happens. It even happens with my own children. As soon as I know they're OK, I start laughing. One of my favorites is The
Grape Lady Falls
.
The noises this woman makes kills me. (She was ok, just had the wind knocked out of her - so you don't think I'm really mean..)
If you know me, you probably already knew these things. If not, I promise I'm not a cruel weirdo. But while I'm at it, I might as well admit I don't really like pizza either.
LittlebitsDesigns.com